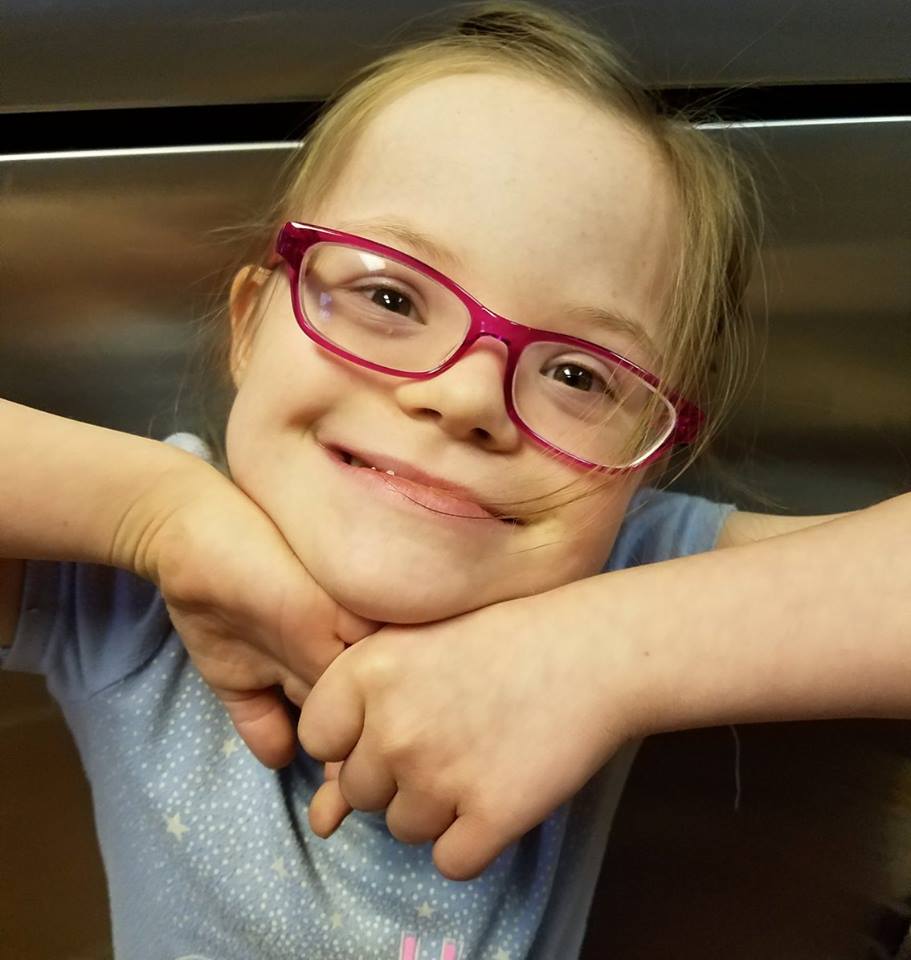 Let me introduce you to the best thing I have going in life.  This is my little girl Elizabeth.  She's a beautiful, feisty, stubborn, dancing bundle of joy and affection.   Words cannot express the way I feel about her.
Words have failed me since the day I met her.
We were first introduced 8 years ago on a February morning in El Paso, Texas.  I was thrilled to see my first daughter face to face and by the time the woman in the white smock tenderly placed the newly arrived princess in my arms I was already madly in love.  I was ready to do my duty as a loving Daddy and speak the first words she would hear  – "you're beautiful."
But that didn't come out.  My first words – "she doesn't look like the others."  Whoops.
That didn't go as planned.  It just sort of came out.
So did the streams of tears that flowed from some busted pipe up and out of my wife's puffy eyes for days on end.  And the "I'm so sorry" that trickled out of the confounded mouths of so many friends and family members who came to comfort.  And words like chromosomal analysis, and trisomy and syndrome that stumbled their way into our first, reluctant visit with the family physician.
Down syndrome.  It just sort of came out.  An unannounced, uninvited guest from out of the womb.  A guest who is going to stay for a long, long time.
This changes everything.
The first step was to mourn the loss of the daughter I thought I had.  The one in my head I had fallen so madly in love with, the beautiful, typical one who wasn't coming after all.
The next step was the confrontation with the ominous spectre of disability.  Trying to wrap my mind around an image of Down syndrome, a walking embodiment of a chromosomal abnormality.  I can't wrap my head around that, it's terrifying and it's killing me to try.  What I can do is wrap my arms around the little girl on the examining table, the one who is here and is waiting to be picked up and held and fed and protected and loved. The one who is my daughter.
This is the final step.  The realization of how much I am going to be needed.  She's going to need me.  Much more than the boys will ever need me.  She's going to need my patience, my creativity, my persistence, my advocacy, my unconditional and self-sacrificing love.  No time to wallow in self pity.  It's time to move forward.  It's time to gather my strength and get busy being a Dad.
She changed everything.
And the thing is, this demand for more yielded more.  We survived the first steps.  Eight years in, I am an entirely different person.  I am more patient, more creative, more persistent, more empathetic, more loving.  I am more resilient and more tuned in to the humanity around me.  And that's just the start of it.
With a gratified fascination I have witnessed something extraordinary – everyone Elizabeth encounters, me and everyone else, we're different.  Something softens.  Something brightens.  Something is given permission to be free.
When Elizabeth comes around, things that are deep and silent are awakened and rise to the surface.  She brings something new out of every situation she enters, something that would never have been there without her.  She changes people, she changes relationships, she changes the whole atmosphere of a scene.  It's like she is some kind of gift, sent from a more enlightened place where disability means something different and maybe applies to different people.
And she's not the only one. When I try to explain this experience, this change, to other people whose lives have intersected with disability I inevitably get the same reaction – an instantaneous understanding.  YES!  I inevitably hear a story of a life more difficult, but more importantly, richer, fuller and more vital – I hear about a life that is not less, but more human because of disability.  This is a a story that should be told as the conversation intensifies around advances in prenatal testing, genetic engineering and eugenic abortion.
Would we really be more human, would life really be richer and more satisfying if we 'prevented' Down syndrome?
Personally, I feel as if I've been admitted into a secret society of enhanced living.  Down syndrome was my ticket in.  And I love it.
Elizabeth has opened my eyes to a captivating new experience of humanity.  A world of unexpected joy and adventure, of compassion, audacity and self-discovery.  A world of unsung heroism and nobility.
This world has forced me to reconsider what it means to be human and rethink how we measure the worth of a life.
I want to share this world with you.  I want to introduce you to some of my heroes whose stories deserve to be told and celebrated.  I'd love to hear your stories and create a space to connect.  I'd love to help shape the way we think about disability, suffering, humanity and the good life.
Mostly I just want to share my priceless little wonder with the world.